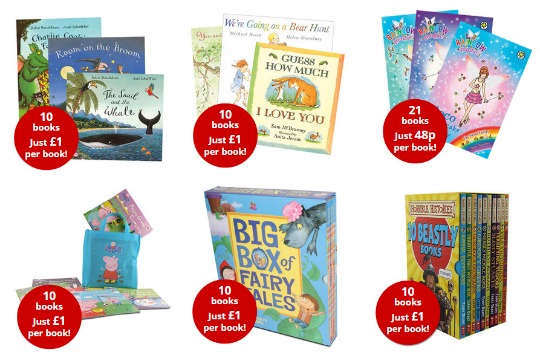 It's sale time again at The Book People, so it's another chance to re-stock those bookshelves and grab some gifts at teeny tiny prices. The May Day Sale* will be on all this holiday weekend, until Tuesday 5th May, and as always there are some fantastic offers. I think I might have to ask hubby to hide my purse!
Here are some of the best:
Roald Dahl Audio Colletction 29 CDs - £18
Julia Donaldson Audio Collection 10 CDs - £8
Horrible Histories Collection 10 Books - £10
Peppa Pig Bag 10 Book Collection - £10
Star Wars Readers Collection 20 Books - £12
Julia Donaldson 10 Book Collection - £10
The Hunger Games 3 Book Collection - £4
Biff, Chip & Kipper 33 Book Collection - £14
Maze Runner Collection 3 Books - £4
Where's Wally 5 Book Collection - £6
Marvel Avengers Character Guide - £3
There are loads more in the May Day Sale*, those are just some that stood out to me as being the best value. The book collections are great for splitting up to make a few smaller gifts for all those parties that kids get invited to, or to keep on hand for a rainy day stuck inside.
If you spend over £25 then standard delivery is free, otherwise it will add another £2.99.