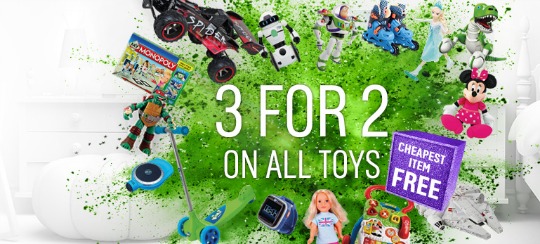 Codes pulled :(
You can play this one a few ways guys but either way HURRY as it's not going to last long!
Some items on Argos have free delivery and that is the best way to make the most of this one as it's for use on home delivery orders only. Selected Homewear for example has 50% off at the minute and you can take another 20% off when you spend £20 using the code HOME20 and then apply your two codes below (some kids duvet sets also have free delivery) and it works on 342 on toys.
Christmas decorations fall into the "Homewear" category too, they are on 342, take 20% off when you use HOME20, then another £6 using both codes below.
If you're paying for home delivery which is £3.95, you're still getting your 342 on toys delivered to your door for free plus an extra £2 off. With me?
The two codes you need are :
fs49khvdpew3 - gives £5 off
fs49ywqghb87 - gives £1 off
It really is just a matter of checking out the items on your list and working out how the codes put together could work best for you! Selected Frozen items* for example have free delivery. 342 on Frozen (there's more, I've just linked to that example) with £6 off and free delivery? Oh go on then!
Worth noting that if your store, and not all do, offers the fast track service, you should be able to use the codes and collect in store.
Like any codestack this one could be pulled at any time so HURRY!
You'll find those vouchers for Argos and lots more over in our voucher section.
Thanks Chanchi!