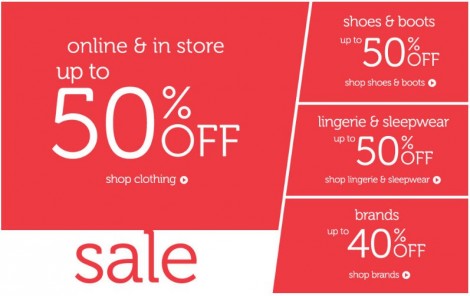 Evans leads the way this morning with up to 50% off on clothing, sleepwear, lingerie, shoes, and boots both online and in store.
We all knew the sales were coming, but it's still pretty exciting to see what they are! It's almost like extending Christmas. Especially when you can do it from the comfort of your sofa, sipping mulled wine and munching on leftover mince pies while the whole family is mercifully entertained by their Christmas treasures.
It's hard to imagine right now, but there's a great range of short-sleeved, spring style clothing on offer in this sale, so perhaps a great time to stock up in preparation for what must, please, be a good summer – we deserve it, after all!
Shoes come in sizes four to eleven, and some are priced as low as £5.00. Besides the boots and sandals, there are some lovely party shoes, at great prices, like the cut out platforms pictured above at £20.00, down from £29.50. Be warned though – most of the shoes under £10.00 have already sold out online.
The down side of shopping on line is that delivery is taking a little longer than preferred, with some postcodes waiting up to seven days for deliveries.

Delivery is £4.00 for standard, and nominated delivery has been suspended until the snow has melted.