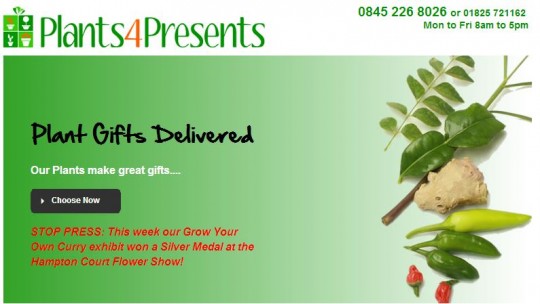 Using the voucher code below, you can take £5 off any order at Plants4Presents. You need to add £6.50 delivery to any order you place, so it's not quite, but almost taking the postage away for you, and works both on the under £20 gift options and the special offers.
Give a fruitful gift with Plants4Presents
Discount: £5
Discount Code: TONIC
Plants for presents provide a pretty unique gift service, whereby you can send growing gifts to people. It's particularly useful, I'd say for anyone who loves cooking with fresh ingredients, but could also just be a nice novelty gift too. For example, if mum loves her G&T, you can send her a giftset that includes a miniature bottle of gin, and a potted lemon tree (£42). Perfect.
Or there's the Grow Your Own Curry option, which are either single plants, or the whole Thai Green Curry set(£44), including 1 Kaffir Lime Tree, 1 bushy Lemon Grass and 1 hot super chilli plant. This collection of plants is great for Thai cooking and will look fantastic on the kitchen windowsill.
It's such a different gift idea, and perfectly summery. I think it's wonderful, and a present that keeps on giving.
Thanks to DJFarmo at HUKD