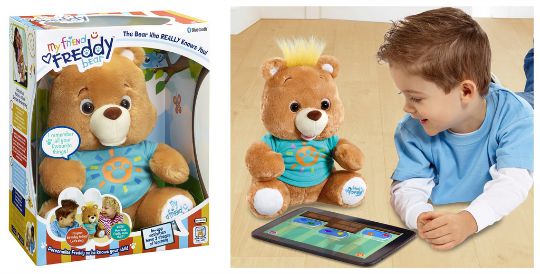 Wow huge drop today on the My Friend Freddy Teddy Bear Plush Toy over at Amazon. This interactive teddy normally retails for £39.99 but Amazon are currently selling it for £29.19 including free delivery. This is the cheapest we have seen this bear for.
This teddy toy may well already be on your little one's Christmas list as it has been tipped to be one of the top toys for Christmas 2015 by both Hamley's and Toys 'R' Us. Here are the rest of the Top Toy's for Christmas 2015 for you to take a look at.
So what's so special about this cuddly bear? Well Freddy the Bear is a completely interactive bear who can help with your child's learning, development and social skills whilst developing their imagination. By downloading the free app to a smart device prior to giving the toy to a child, an adult can answer questions about the child and personalise the bear. Therefore when the child plays with Freddy, he already knows their name and lots of information about them!
My Friend Freddy Bear is the bear who really knows you! Download the free app to an iOS or Android smart device and type in all sorts of information about the child and their family to bring him to life. Little ones will be amazed that their bear knows all about them! The app includes lots of activities with counting, colours, animals and more which grow in complexity over time as the child develops. When not connected to a smart device Freddy Bear is a lovely, cuddly teddy who will talk when he's cuddled, tipped upside down, or thrown in the air!