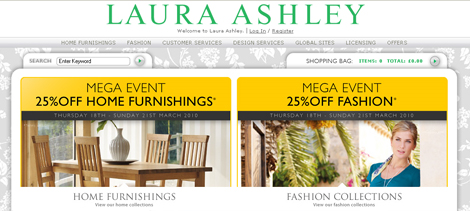 OOOOHHH someone take my purse and cards away from me QUICK!
I've always had a funny relationship with Laura Ashley - some of their stuff I love and some of it is, in my opinion, erm...an 'aquired taste'.  But with 25% off across their entire range, both online AND instore, there's bound to be more than a few things that will tempt me, and you and at a more affordable price than usual.
This sale event only started today and it runs until this Sunday (21st) so let's go and have a quick look-see around...

Ohh there's SO much to choose from!  OK, how about these boys duvet sets: trains, dinosaurs, on the sea and football that are now £37.50 instead of £50?  For girls: garden fairies, Katie, forest friends, carrie heart and fairytale princess sets for the same price.

I utterly adore this butterfly charm necklace which is now £15 instead of £20, it would make a stunning present for fans of all things butterfly!
Don't fancy any of that?  Maybe some new sunglasses so you're ready for some summer glamour?

OR a new handbag for the handbag collectors among you - I'm not a big bag fan, in both senses, but I'm quite taken with this little one.
So it's over to you now - happy browsing and finding of fab Laura Ashley bargains!
Thanks to lyndaloo over at HUKD!