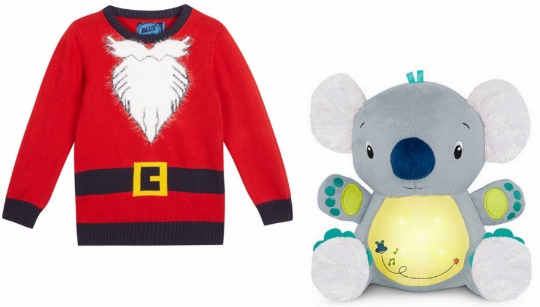 Debenhams aren't shy when it comes to dishing out the bargains. They have launched their Winter Spectacular today which means you can get up to 25% off pretty much anything. That's great news if you have Christmas Shopping to do as Debenhams cater for the whole family. As well as the 'Up to 25% off' deal, there are various others too like 40% off selected Children's Clothing.
There is up to 50% off selected Toys as part of their Mega Deals in the Winter Spectacular. Be careful though as they aren't all bargains and some can be had cheaper elsewhere. Having said that look at this Bright Starts Twinkle Tummy Cuddle Koala* was £18 now £10.80.
You can also save up to 50% off selected Gift Wrap and Cards. It's not to early to start stocking up on those, especially if you are getting bargain.
Here are some bargains we spotted with 40% off*: Bluezoo Gilet, Top and Bottoms Set* was £18-19 now £10.80-£11.40, Bluezoo Girls' Dark Blue Jeans* was £11-£17 now £6.60-£10.20 and Bluezoo Santa Claus Christmas Jumper* was £14-£21 now £8.40-£12.60.
Talking of Christmas jumpers, don't forget to check out our round-up of some of our favourite 2015 Novelty Christmas Jumpers!
You can Click and Collect your Winter Spectacular Bargains for FREE from a Debenhams store near you or pay £3.99 to have them delivered to your front door.