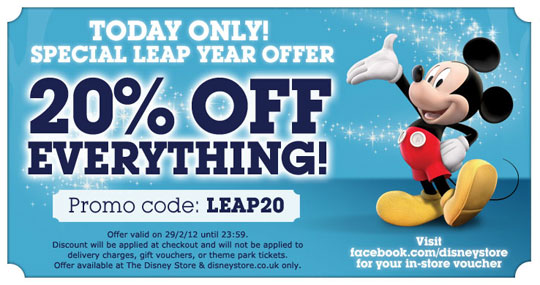 HAPPY LEAP DAY!  The Disney Store are celebrating this extra day in the year by taking 20% off EVERYTHING, both in-store and online, for TODAY ONLY.
With 20% off everything the world is literally your Disney discount oyster; where are you going to start?! I rarely buy anything from the Disney Store but I do love mooching round their 'in the real' stores , there's something very magical and childlike about being in one.
If you have a Disney Store local to you and you'd prefer to peruse everything in-store then you need to go visit the Disney Store on Facebook and pick up your in-store 20% off discount code.
If you're going to do your Disney store shopping online then you need to add code LEAP20 to your basket and the 20% will only be applied to your purchases, not delivery as well (I suppose we can't have everything!).
You don't need me to go through all the Disney characters do you?  I'm sure you're already very well aware of who they all are and which ones are your child's favourites.
Just remember, this deal is running for today only and stock on all the popular things and sizes tends to fly off the shelves, both real and virtual, so the sooner you choose and order the better.
Thanks to kayf at HUKD