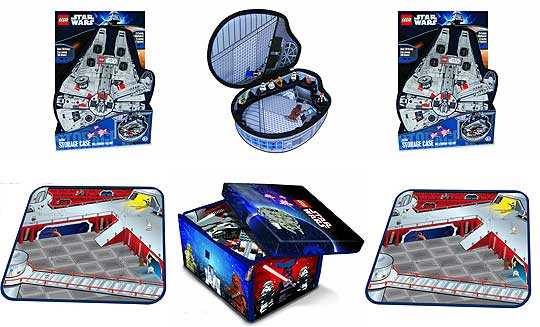 If you have tons of Star Wars LEGO to store, or any other kind of Lego for that matter, the you should pop over to Amazon and take a look at the LEGO Star Wars storage bits and pieces that have various discounts on them.
My youngest son, Edward, is six and he's a HUGE LEGO Star Wars fan; I must confess to being a bit of a Star Wars and LEGO Star Wars fan myself and am always more than happy to help him build some of the more complex LEGO Star Wars models that he has.
The thing is, whilst all the bits and pieces come neatly packaged in their plastic bags inside the box, what on earth are you supposed to do with your model bricks, wheels and spindles etc, when you've built it and your child has pulled it apart to steal parts to create their own LEGO Star Wars 'Super Cruiser'?!
Well, so far the solution has been: sling it all into a huge plastic tub and convince yourself that searching for all the relevant pieces to a model is part of the 'fun'.  Well, NOT ANY MORE!  Now you can store your LEGO Star Wars bits and pieces in these LEGO Star Wars storage bags and boxes.
This particular Millenium Falcon storage case costs £8 (was £9.99) and has 23 minigifure pockets and can also hold up to 200 LEGO bricks. I rather like this LEGO Star Wars toy box - unzipping the toy box transforms it into a fab' space station control room for extra role play happiness - you can pick one up, at the moment, for £11.99 instead of £14.99.
There are various other LEGO Star Wars storage boxes and bags, so take a mooch through them all and see if any take your fancy!
Thanks to Rach75 at HUKD