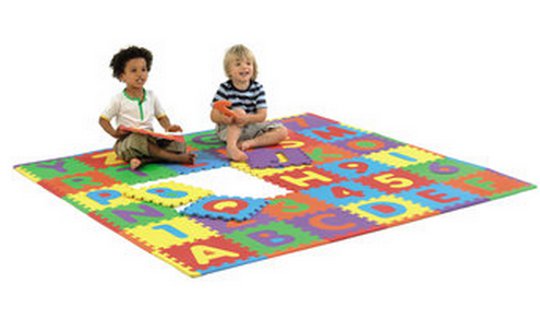 There's an online only offer at Toys R Us at the moment for 12" Foam Alphabet and Number Playmat for £12.49 instead of £24.99. Delivery is £4.95, bringing it to a total of £17.44.
These actually look like a really good deal to me. 12" foam letters A- Z as well as numbers 0-9 with edging to make a perfect square, there are enough blocks here to provide pretty good ground cover and the nineteen reviewers have given it a five star rating, with many of them commenting on how much of the floor surface it covers.
The colours are bright and cheerful, and reviewers have compared it favourably and not in comparison to ELC mats – I guess it depends on your taste. I also remember seeing a blog post where the person had painted the reverse of the mat to match the colourscheme of her living room, without losing the softness of the floor. Genius, really.
Reviewers also say that the mats have no smell, which is great, in my view, and that the letters come out quite easily – which might be why it's not suitable for babies under 24 months, but honesetly I agree with the lady who can't see why!  You could even put a material playmat over it for a baby to provide extra warmth and padding.