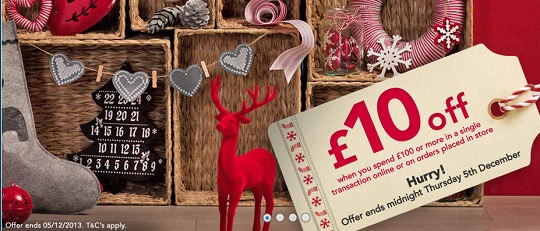 Wilkinson has decided to throw some deals into the mix as Christmas fast approaches and you all need to get saving and spending and shopping and sorting out those Christmas gifts. From 29 November to 05 December they are offering a £10 off any spend over £100.
While I am not entirely sure that this is an epic deal, it certainly isn't making me shiver in my boots, but if you happen to be shopping at Wilko and you are buying something over £100 already, then a saving of £10 will definitely come in handy.
You can choose from a pretty impressive range of products and Christmas offerings on the site, and you could do your entire shop on there if it took your fancy. There is a lot of stuff. I love this shop as it always has so much cool stuff going on.  To add to the mix you can get free delivery on all orders via standard delivery for one day only on Monday 02 December.