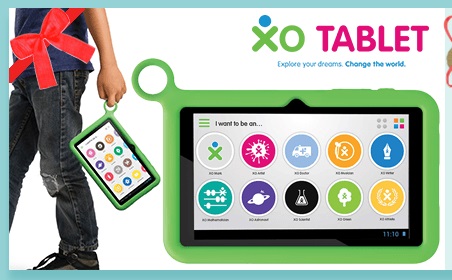 Little Bird have stock of the new-to-the-UK XO Android Tablet specifically designed for kids aged 4 -14 years of ages. The tablet is currently £59.99 but there's a £4.99 delivery fee, bringing it to £64.98.
The XO Tablet comes pre loaded with over 150 applications, along with several videos and over 100 books including popular novels and classic masterpieces. The XO Table has a built in eReader too. 
The XO Tablet is also a Google Certified product, which means you can shop on the Google Play Store for thousands more apps too.
This complex but simple to operate android tablet will adapt and grow with your child's needs as they develop and is built with the importance of fun learning in mind. This adaptable XO Tablet is a small investment to then be ready to capture and enhance your child's thirst for knowledge.
The XO Tablet features a high-resolution screen, dual-core processor, and the latest Android operating system. It comes with Parental Controls and with a Parental dashboard to track usage, the internet and learning styles.
Personally I'm just sold that it has a carry hook!