Two Weekend Boxes £9 @ Little Bird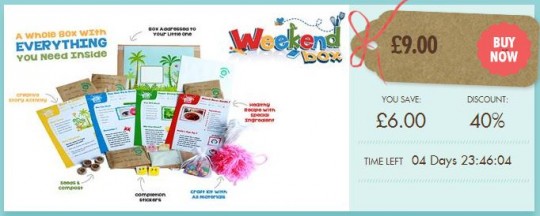 One of the offers currently available at Little Bird might be particularly appealing if you're climbing the walls in boredom and frustration: The Weekend Box. Normally £5 for the first two boxes then £7.50 thereafter, there's £1 off the first two boxes from Little Bird. Not life changing, but an incentive to try it out none the less. (The £6 saving is off the full price of £15, so it's a bit sneaky advertising, which you only realise later!)
Aimed at children aged 3 – 8, the Weekend Box is delivered right through your door every fortnight for no additional postage.
Each box contains 4 categories: Something to EAT (a healthy recipe with accompanying secret ingredient), Something to MAKE (a craft kit with all the materials required), Something GREEN (some seasonal seeds to plant or something to make with recycling/rubbish material) and Something to READ or WRITE (a creative story writing game, for example).
Boxes are sent out in time for the weekend every fortnight and since everything's included in the box, all you have to do is have fun with your little ones.
We've bought the trial set, and I'm excited to see what they're  like!