Wallies Wall Stickers Woodlands Growth Chart Review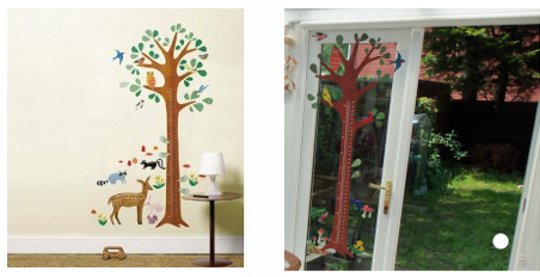 I cannot tell you how much I love the Woodland Growth Chart (£14.49) from Wallies.
The pictures just don't do this product any justice at all. I ordered this as I've been looking for  a growth chart for my daughter for ages, but never found one I really liked. When it arrived, it was on two sheets of sticky backed paper and my first impression was wow. I couldn't believe how many stickers there were! In fact we've put as many as we need on the conservatory door – our playroom – and there are still extras for if we want to add to it later.
Initially I didn't realise that each sticker is separate (and the tree comes in three  parts) and thought the picture you see on the product is it, but you have ultimate flexibility with these. You can put them all together or spread them across the room.
They are excellent quality and look absolutely great. They have a sticky back so they can be peeled off and replaced elsewhere, and they leave no residue.
The chart comes with four leaf stickers on which you can write the child's name and age to measure their growth. I'm writing it on the actual tree with pen though, for posterity and all that.
The only part I found difficult was positioning the tree at the right height to start with. It would be useful if there was a guide to show you where to start it to have it be the right height before you stick it, since the starting height is 60cm.
Everyone that comes to our house and sees this gorgeous growth chart comments on it, and on how lovely it is. It really adds a fairy tale feeling to the playroom.
P.S. These are on sale today - until 6am on the 24th September 2012- at Zulily for £10.