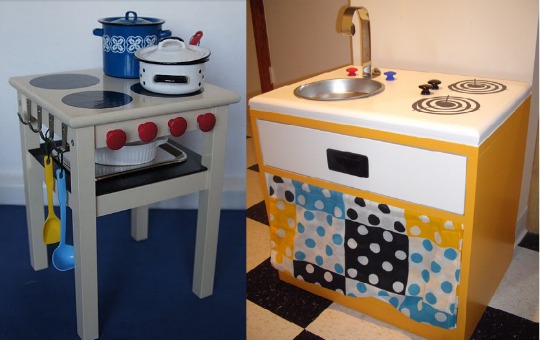 I am a member of many parenting groups and the ladies and gents in them never fail to amaze me. This is why they are great, they come up with ideas that are not only genius but help save money. Quite a few of the parents I know that are on a low income showed me how they managed to give their children a play kitchen like no other.
Upcycling is not something that fills me with joy. I love seeing what others can do but I am not creative at all! BUT, even I could do these simple steps to turn an old bedside cabinet for instance into a fab play kitchen.
Step one: Locate an old piece of furniture. Whether it's that tatty side table cluttering up the garage or a neglected bedside table from Granny, it really doesn't matter.
Step two: Sand down (if needed) your furniture or just paint onto the furniture with a gloss paint. You should do this in a well ventilated area. Doesn't matter what colour. You can pick up bright glosses for cheap in your local DIY stores, in the clearance section. You can use a self-adhesive fablon, again look for bargains in those DIY stores. You don't have to paint it if you'd like a pine coloured kitchen  or if it's MDF.
Step Three: Glue on some knobs for the cooker. You can buy these in your local Ironmongers or DIY store for pennies. You can drill holes into the furniture and screw them in if you'd rather have the added security.
Step Four: Add details. You want a hob, so either paint some red and white circles on or use some stickers like these Bullseye stickers* from Amazon. If you have a jigsaw saw then you can cut out a circle and insert a metal bowl for a sink. The possibilites are endless. Paint a square on the front door if you have one under the hob to mimic an oven.
Step Five: Screw in some hooks above the hob to create hanging space for utensils. It's really a matter of taste and ability and also what you are working with, that dictates the finished product. You can make it as simple or as complicated as you like!
If you have made your own play kitchen before! Let us know, over on our Facebook page.