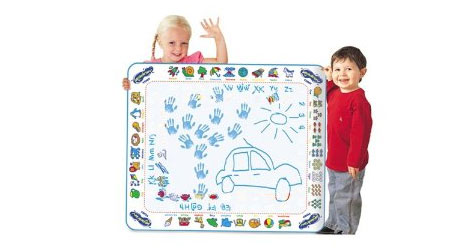 Amazon are, for the moment, selling this large Tomy Aquadoodle Classic drawing mat for £13.39 instead of £19.99.  It's selling for the same price at Play.com just now and around the £20 mark everywhere else.
I think this Tomy Aquadoodle drawing mat is sheer genius.
The closest thing there was to this when my two eldest were small was 'magic painting' colouring books, where you just painted over the pages with water to reveal the colour underneath; they were ok, but they didn't really give any room for being creative.
With this Tomy Aquadoodle drawing mat, painting and drawing becomes an absolute breeze for all involved; there's no setting up, no mess, no clearing up – I mean, really, this is a busy parent's DREAM activity!
A little bit of  water is all that's required to let your child's inner Jackson Pollock run riot – simply fill up the special pens with the wet stuff and DRAW! Or use the special paintbrush and stamps to add different effects.
When the Tomy Aquadoodle mat dries out the pictures disappear and you're left with a clean blank canvas on which to create another masterpiece; brilliant!
Thanks to sarah2004 over at HUKD