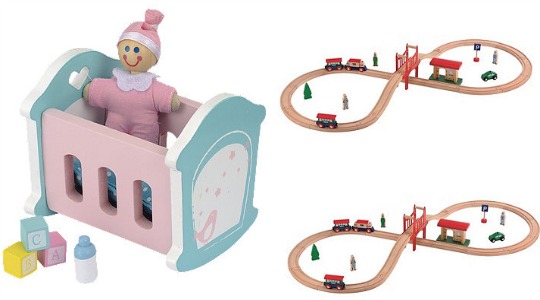 I used to avoid Mothercare like the plague when it came to buying toys, because lets face it they were far from cheap. Skip to today and my opinion has completely flipped about them. You can pick up a real good bargain from them. Just now they have their Half Term Half Price event running, where you can get UP TO 50% off a selection of toys. There's plenty to choose from too as there are a total of 149 items included in this deal.
If you like painting, arts and crafts with the kids then you can pick up paints from just 80p a bottle. Mister Maker Bumper Craft Box* is now only £10, reduced from £20. It is jam packed with bits and pieces to create 30 different things.
We know you guys go nuts for wooden toys and they are lovely, so you will want to check out this Big City Wooden Rail Figure of 8 Set*. It's now only £10, and it looks well worth that. It had been £20 previous to the event.
To save on the home delivery cost of £2.95 and collect your toy order for FREE from your local Mothercare store.