Stickipedia Sticky Notes Review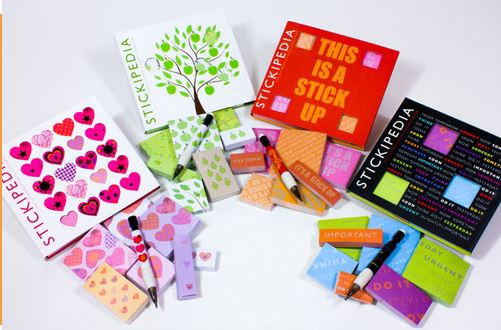 The post-it note has had a revolution in the form of Stickipedia - a sticky-note organiser that takes you way beyond the yellow post it note of yesteryear. There are four different Stickipedia oganisers, the Typography, Tree, Stick Up, and Hearts. 
Each organiser is wrapped in a sturdy cardboard box so that the sticky notes are protected, which also helps keep everything together and tidy in a compact, CD-sized package.
Open it up and you're presented with seven differently shaped stacks of sticky note, arranged tetris-like within the larger square shape. These seven stacks are broadly based on a single theme but each stack has unique artwork to help it stand out from the others.

For example, the Tree pack has sticky note pads featuring green apples on white, green apples on green, green apples on grey, leaves, leaves on a tree, a mix of leaves and apples, and a single pair of apples - the choice is yours.
Each pad also comes with a refillable clicky pencil, again themed to suit the specific set, and you get three leads to start you off. The pencil is stored using an elastic place-holder in the spine of the box to keep it neatly out of the way when not in use.
Size-wise, the variety of options goes from small rectangular place holders (i.e. for noting pages to be signed) to four differently sized squares for traditional sticky note use.
If you're used to using those traditional sticky notes, you'll probably find the sticky bits of each notepads a little too firmly attached for your liking, but that's a price worth paying if that same stickiness transfers to whatever you're trying to attach your notes to. We tested out notes on paper, plastic, a desk, a mirror, the wall and - just to be different - an iPhone.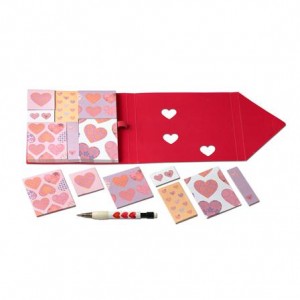 The Stickipedia notes did well when applied to paper and plastic, while the notes I put on my desk surface curled up at the bottom a bit but remained firmly attached. However, they quickly curled right off the mirror and only hugged on to the wall for a minute or two. The iPhone wasn't a fan of being stuck to at all. That's by no means a perfect score, but to be fair it's not often you'll be putting reminder notes on your wall or phone. It works well where it matters.

Personally my favourite pack is the Hearts. The packaging itself is sparkling and eye-catching, and the heart designs used on each individual pad inside are all cutesy and colourful. The primary use for these notes in our house will probably be for little lunchbox love notes - from simple I love yous on the smaller ones to great big declarations of adoration on the big ones.
I am not sure how many notes are in each pack - I stopped counting at 100, but I think around 700 or so. Maybe more. Enough, at least, for lunch box notes for my children for a year! Not bad for £5.  Let's just say that we have all four sets and I don't think I'll be buying sticky notes for a long time to come.
The Good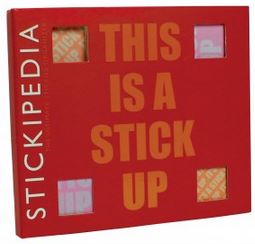 It may be too late for stocking fillers, but these are lovely gift ideas for back to school, or just someone who likes to be and keep organised.
I love that it comes packaged in ready-to-gifts.
I also love that it is so compact and tidy to keep - it wont end up in the bottom of the drawer, unglued and messed up.
There are a lot of sticky notes, and while you may spend more on it than your average, run of the mill stickynotes, these are just gorgeous. 
If you're planning to get your year off with an organisational bang, these are great for little notes around the house, reminders on the fridge or bookmarks
The Bad
Is there something bad about sticky notes? Well, they may fall down, eventually, or come unstuck and end up in the bin. But that's true of all things!
I think the glue could be a bit stronger once you've taken it off the pad, because I like sticking things on the mirror.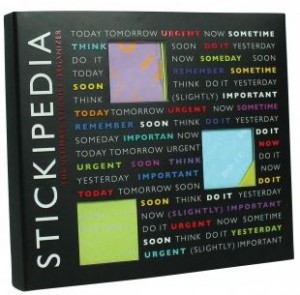 The Verdict
Love, love, love Stickipedia sticky notes. They're fun, different, and useful. Perfect for people who love stationary, perfect for people who love organising, and just cool.