Snazaroo Face Paints Party Pack £9.81 @ Amazon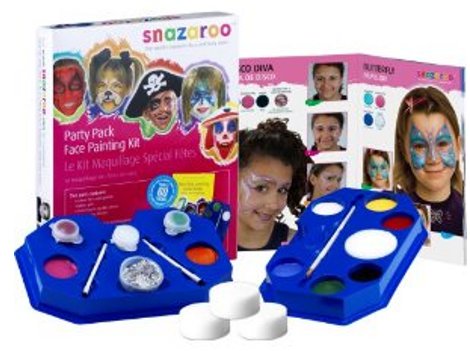 The Snazaroo Face Paints Party Pack Face Painting Kit is £9.81 at Amazon, 35% off from £14.99.
Snazaroo Face Paints are a fab fun addition to a children's party, so long as you have someone on hand who can draw more than stick figures, i.e. me – even my stickmen come out funny looking.
Snazaroo Face Paints are apparently specially formulated to be friendly to even delicate skin and are fragrance free. Their ingredients are all compliant with EU and FDA Toy and Cosmetic regulations, and are non-toxic.
This particular kit contains enough paints for up to 60 full faces, so quite a few more if you're just doing butterflies on the cheek. They're water-based, so come off without too much effort, and a bit of soap and water.
The Snazarro Face Painting Kit comes with a palette containing 2ml pots of black, white, red, yellow, green, blue, glitter palette with sparkle pink and sparkle orange, four glitter gels, one brush, one sponge and a 16-page face painting guide.