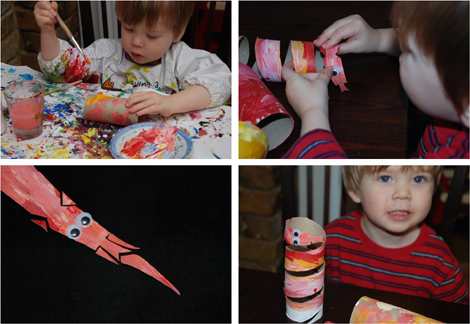 Today's guest post comes from the pen of Maggy from Red Ted Art, where she regularly crafts with her toddler and bring you weekly How Tos. She loves doing things with her children that are fun, creative and do not cost a fortune. Here on PlayPennies, we're going to be posting lots of great craft ideas in the workshops tag.
My post today, will be short and sweet and only cost pennies (if that):
My favourite kid's craft materials are paper rolls (also known as loo rolls, but you can make these with kitchen rolls too). Today we are going to make SNAKES. These are great, as you can make them as simple or as elaborate as you like and they will always look great.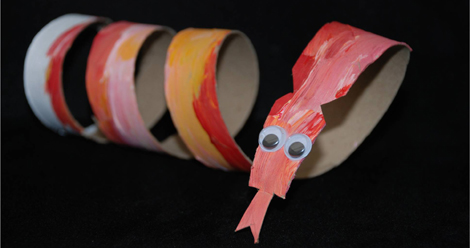 Materials: Loo roll, paint, scissors, googly eyes (optional), glue. Instead of paint (or as well as) you can also use paper shapes you have cut out or bought, glitter glue, stickers, whatever you have lying around the house!
Paint your loo roll. If you do horizontal stripes (unlike our loo rolls in the photos), you will get a stripy snake.
Using a small pair of scissors start cutting diagonally into the roll cutting a spiral all the way round.
Cut the shape of the head (see photo)
Stick (or paint) on eyes
Done!
We made a paint version at home (pictured above) and a sticky shape version at playgroup (pictured below) where there isn't time for the paint to dry. So these really are very versatile and can be enjoyed by different age groups.
Play and have fun for pennies!