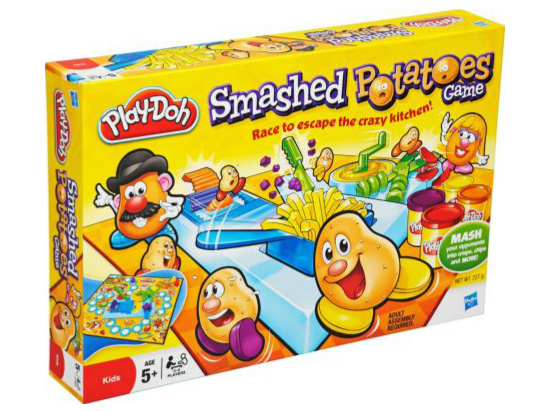 Argos have knocked a third off this Play-Doh Smashed Potatoes board game - their selling it for £7.99 rather than £12.06 (which is what Amazon are currently selling it for).
If you're a member of the No Violence Against Potatoes group then, please, look away now - you won't like what I'm about to tell you and I'd hate for you to get upset...
Play-Doh Smashed potatoes is BRUTAL and for that alone, your kids are going to LOVE. IT!  The aim of the game is to get your Play-Doh spud all the way around the board in one piece - your opponents will be trying to slice it in half, squash it flat or turn it into chips! 
I can hear young children, across the land, sobbing when their potato is smashed and cheering when they french-fry yours.  Not only will kids love this Play-Doh Smashed Potatoes game, based on reviews, it would appear that grown-ups enjoy a bit of potato smashing just as much too:
"Good fun with plenty of laughs all round game for kids and adults"
"My 5 year old son received this for his birthday after wanting it for the last 9 months and it didn't disappoint he loves it and I have to say its not a bad game you all get involved and quite competitive wanting to smash each others potatoes would recommend."
"Good fun game, ideal for 4-6 year olds, maybe up to 7 years. Above this it is a bit too basic. But good fun, good rules and not too long to play. Recommend absolutely for young children!!"
If your local Argos has stock then you can pop in and collect your Play-Doh Smashed Potatoes board game for free.  It's currently out of stock for home delivery, so use www.icheckstock.co.uk to help you track one down.
Happy smashing Play-Doh potatoes!