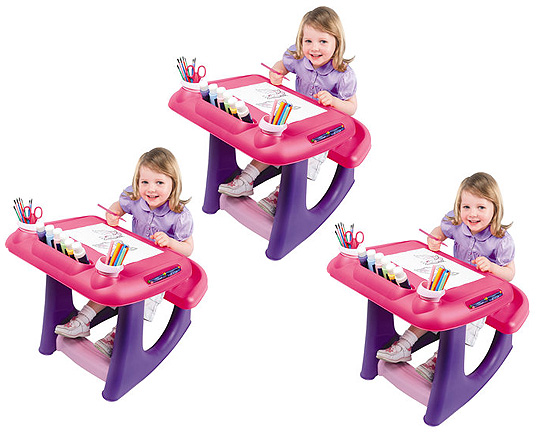 Toys R Us are selling this Sit 'n' Draw creative desk for half price - £17.49 instead of £34.99.
If your child is arty or loves to mess around making things then this is going to be awesome for them. This rather fabulous Sit 'n' Draw creative desk has rounded corners for safety and deep storage 'grooves' and pen pots to stash pens, pencils, paints, brushes and all the other arty farty crafty bits and pieces that kids accumulate.
It's going to save you having to cover the kitchen, or dining room, table in newspaper every time your child wants to get creative, and it will allow them to keep all their bits and pieces in one place - well, it will if you can convince them it's a good idea to put things away in their proper place each time (good luck with that!).
You're going to need to put it together when it arrives (home delivery will cost you an additional £4.95) but, according to all the reviews, it's nice and easy to assemble.
ALSO, if you have two little ones, if you buy one you can pick up another one for half of the half price - if you see what I mean! I'm not kidding, I just tried it: sitting in my basket are two Sit n Draw creative desks and the total comes to £26.23.
"But what if I don't need two?!" I hear you cry! Well, you can get that same half price deal on anything that comes under the 'Universe of Imagination' banner - you can't miss what they are, Toys R Us have listed them altogether.  Alternatively, you could just buy ONE Sit n Draw creative desk and nothing else.
Thanks to qwertycrazy at HUKD