Serif Craft Artist Platinum Edition Software Review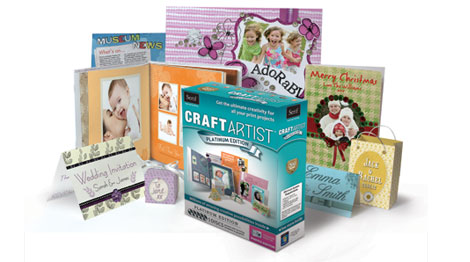 There's something special about making gifts or cards to give people.
I'm quite arty and have drawn pictures for thank you cards for years but if you're not, you might still be stuck in the pre-school era of sprinkling a bit of glitter onto some card covered in glue.
If you're a crafty wannabe then rescue and salvation can be found with the Serif Craft Artist Platinum software; we sent an edition off to PlayPennies mum Tanya to play with for us.
"This is one hefty house of software!" Tanya tells, "It has taken me about an hour to install everything from the Serif Craft Artist Platinum Edition."
There are four DVDs and one CD plus a patch along with whole host of free digitkits to install and download; Tanya says it's one of the most comprehensive forms of craft software she's ever used.
"The sheer depth of customisation is very impressive," she continues, "I've spent about two hours on this and it is definitely engrossing and I've not scratched the surface. I created a photobook of which there were several templates - alll of them baby related."
Tanya then went to their online site, DaisyTrail.com, where she found lots of free digikits to download http://www.daisytrail.com/free_stuff.html
"This site is impressive with a huge community, it sucked me in for hours!" Tanya confesses.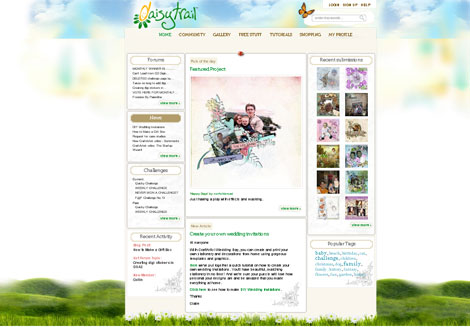 The Serif Craft Artist Platinum software will let you create pretty much anything you want using their templates, or you can fly solo and just use their software to create something of your own; the only limits are you the ones you impose on yourself, so unleash your inner Picasso and let 'him' run riot!
"I took one of their baby templates and I basically fiddled and played around with the various backgrounds and textures and turned it into a Halloween design; seriously cool," Tanya reveals.
If you find this sort of software  a little bit intimidating in the beginning then don't worry, you get a startup wizard every time you open it (you can turn this off when you don't need it anymore) and Tanya told us that the instruction 'booklet' was around 242 pages long.
"OK! OK! I only made it to about page 20 before I decided to just leap in and start designing, it was too exciting to resist!" Tanya confesses, "I'm busy making a wedding present for a friend and this Craft Artist software is making it a breeze, it's amazing.
I just clicked on Photobook, added the photos with one click and then started adjusting them, changing fonts and colours, and fiddling with sizes."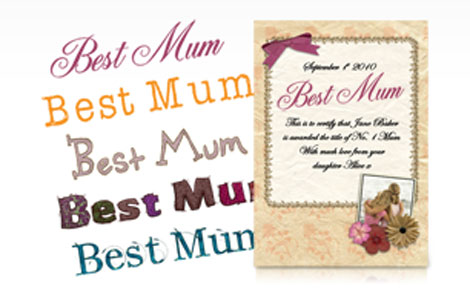 Mother's Day is rapdily approaching (Sunday 3 April if you were wondering when) so  Serif Craft Artist may well just be your knight in shinging craft software if you want to create something special.
To see what Serif Craft Artist had up it's sleeve for Mother's Day, Tanya went to play around with the digikits.
"There are tons for Mother's Day and you have to register; I hate registering, but I can understand why you need to do it," Tanya admits, "The files are big and unless you have monster amounts of hard drive space you may want to curtail your digikit passions."
If you've ever used Photoshop then the deep, dark world of layers and messing around with the intricacies of things won't be a problem for you, if you're not used to it then get ready to embark on a bit of a learning curve.
Tanya agrees, "This does take some getting used to as you knuckle down into the bowels of the system and start to get fussy and fiddly with your designs.  I also had some issues with installation, the system freezing, refusing to install and it got a bit annoying at times.
Especially when I tried to download the digikits and it told me I needed Scrapbooking and I already had Scrapbooking installed. This is, however, the world of software I suppose."
And finally...

If you are someone who's more of the digital crafting age, rather than getting down and dirty with fabric, scissors, sewing and glue, then this Serif Craft Artist Software is likely to be just your sort of thing.
All of the time, love and effort is still there minus the cost of all the materials and bits and pieces, all you need to pay for is the one-off cost of the software - it's £34.99 in Argos at the moment, or £39.99 if you buy it from Serif directly.
There's also a section entitled Make and Do where they talk you through creating things like gift cards and paper at home along with a dedicated YouTube channel, where you can get all sorts of video tutorials on the software.
Tanya's last word on the Serif Craft Artist Platinum software...
"An excellent buy; just exellent!"