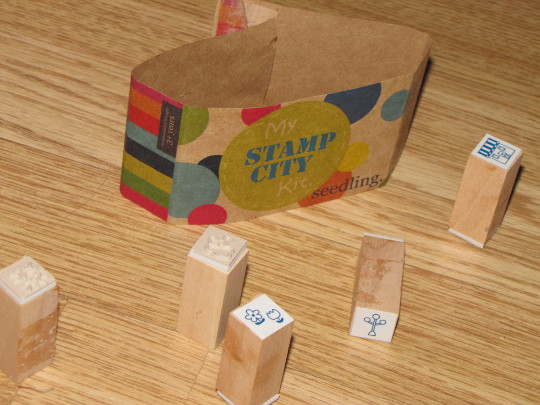 When I received the note that I was going to be reviewing some Seedling products, I was really excited. I've seen some of their amazing range of really natural products for children. Seedling encourage childhood in the most wonderful way, bringing to life nature and her endless possibilities with such toys as build your own bird houses, solar powered planes, and a nature press. They have creative kits that include twig pens and felt pencil cases, wooden toys, chalkboard rolls and the list goes on and on. Their products appeal to my style of parenting, and to the relatively plastic and battery-free nature of the toys we prefer in our house.
We were to review a My Fun Stamp City kit and the description of it said that you could "create your own city, complete with shops, houses, parks and cars" and I started setting aside boxes of varying sizes for us to use in our craft activity. Admittedly, I hadn't seen a picture of what the product was, so in my mind it was completely different. When an envelope arrived with a really tiny stamp set, I was quite shocked. It just wasn't the play city I'd envisaged in my mind!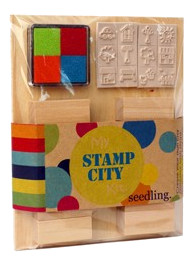 That's not really the product's fault though, so we gave it a fair go one rainy afternoon.
You receive a wooden square pallet attached to which are twelve stamp pads, twelve wooden blocks, twelve stickers that correspond to the stamp pads, four ink pads and a booklet for stamping in.  Before starting play, you have to assemble the stamps, by pulling the wooden blocks away from the wooden pallet, then sticking the stamp pads and stickers to either end of them.
You're then ready to stamp.
I wasn't actually that keen on the DIY aspect, especially with an eager almost three year old trying desperately to 'help' sticking them on, because it made it hard to line them up straight or centred, meaning the stamped image came out  little skew on some of them. I also found that the stickers didn't remain stuck and a few days later, we've lost a lot of them, so you have to actually check the stamp pad to see what it is, which way round is up and so on.
The inks were good, they've lasted well but they have become a little messy in the hands of a toddler. That's to be expected though.
The packaging of the product is consistent with what seems to be the ethos of the company - a simple plastic wrap to keep it all together and glue dots to keep it all in place. I did find the glue dots made the wooden blocks a bit sticky and it took some rubbing to get them clean. Either way, there wasn't masses of packaging and it wasn't particularly waste heavy at all which was a nice bonus.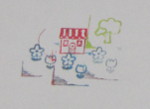 The stamps themselves have nice designs on them, and they do make a nice 'city' with houses, shops, trees, flowers, lamp posts and so on, but I didn't think the outlines were raised enough, as each stamp had the corner come out in the stamping, which ruined the picture a bit. Perhaps I'm just a rubbish stamper though? Maybe there's a trick to it that I don't know?
The Stamp City kit is aimed at children 3 and over, because it does have very small parts and it costs around £10 to £11. I think, personally, that while it's 'safe' for a supervised 3 year old, it's target audience is going to be a bit older than that. For a 3-year old the images are too small and the stamps possibly too fiddly. That said, she's an almost-3 and she had fun with it, despite not actually designing any kind of city I'd want to live in!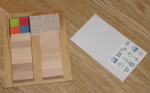 The Good
A fantastic company with good quality products
Durable, apart from the little stickers
Creative and fun
If you're looking for a wooden stamp set with city features, this is perfect. If you've watched too much Mr. Maker and are expecting play house style 'create your own city' you're in for a shock!
The Bad
The sticky wood put me off a little
The images are really quite small
The DIY putting it together meant some of the stamps ended up skew. I'd have preferred it to arrive ready made, but my daughter enjoyed putting it together, so it depends on your intentions for it, I suppose. (She liked the journey, while I was focused on the destination!)
For it's size I think it's quite expensive, especially when compared to other stamping kits on the market - that said, I can't think of any other 'city scene' stamp kits available.
The Verdict
Because I'm such a fan of Seedling I feel really bad for not being totally in love with this product, and perhaps if I was testing it out on older children I'd feel differently, but I'm  not convinced that the Stamp City justifies the price for it. I certainly wouldn't throw it out, but I wouldn't rush out to replace it either. Seedling have loads of other, much nicer products. I would heartily recommend you browse through those.