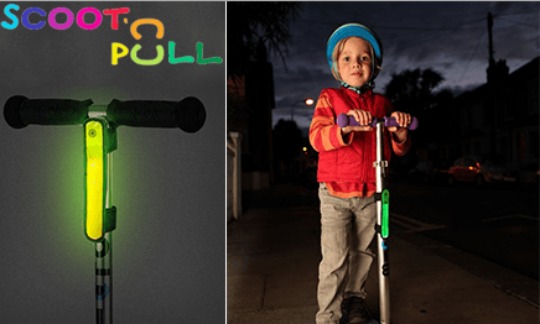 I'm writing this before 5pm and it's very nearly dark outside already. I know I changed all the clocks in the house earlier today, but it's still shocking how early it will get dark from now on. That's why this offer from Little Bird is so well timed as this is a great little gadget for those winter evenings.
Little Bird have a special offer with £3 off Scoot Beamz lights, making them just £3.99 each rather than the usual price of £6.99 each, and even better this price includes free delivery as well. Looking around this is less than half the price you can get one delivered for from anywhere else, so that's a great saving.
Scoot Beamz are are fun, bright lights which will keep the scooter visible when zipping around, especially in these upcoming dark winter months. Practical for parents, you'll be able to see where your little one is and they won't disappear in front of you! Easy to attach, all you need to do is wrap the strap around the scooter pole and you're good to go.
For £3.99 you get to choose from one of four lovely bright colours and switch as you please between the three light settings (fast flash, slow flash and constant).  The material is reflective, so help keeps your child seen even when the light is off.
This sounds like a great idea to me, and really useful too, as well as great value for money. There's no special code to redeem, you just order direct through Little Bird, with a maximum of four purchases per family and your Scoot Beamz are sent directly to you. This offer started today and runs for one week only and while stocks last.
So what do you think of these Scoot Beamz? Have you used these or something similar for your children's scooters? We would love to know what you think of them so let us know in the comments below or over on our Facebook page.