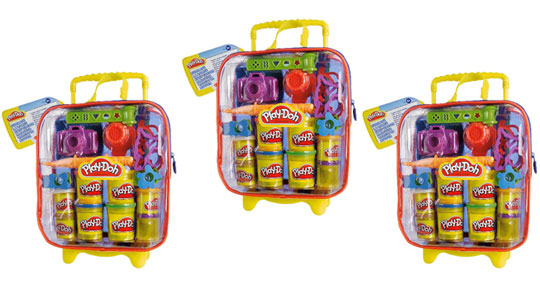 Tesco have a nice half-price deal on this Play-Doh suitcase for you - it's normally £25.00 but, for now, you can wheel it away for just £12.50.
This is something I'll only ever buy for someone else's child; Play-doh fills me with irrational fear!
As far as I'm concerned it's hideous stuff that's only any good for mixing together so it becomes a brown mess of BLEURGH! or for getting stuck in the carpet.
If you're slightly more relaxed about Play-Doh than I am, read on!
This little suitcase is perfect for taking all your Play-Doh things out and about with you; wherever your child goes, their Play-Doh can now go too *shudder*
It's packed with eight tubs of different coloured Play-Doh and lots of different accessories.
There's a camera and roll of 'film' extruder, along with various shape cutters and other things to squidge your Play-Doh through.
It's suitable for youngsters aged three years and over and can be ordered on-line and collected in-store for free, otherwise home delivery is going to cost you £5.
Thanks to Yorkie1962 at HUKD