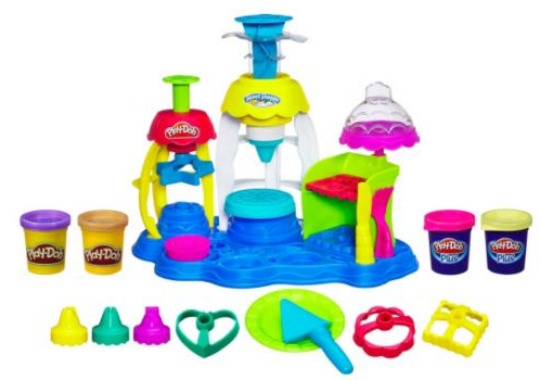 Boots.com have this Play-Doh Frosting Fun Bakery half price at the moment, meaning you are getting this set for only £9.50. This is a great price since it sells for £15.09 at Amazon, £13.50 at Tesco and £17.99 at Smyths.
Click here for the Play-Doh Frosting Fun Bakery from Boots.com*
Oh this Frosting Fun Bakery play set looks right up my street. With this Play-Doh kit you get to play baker. Kids love baking but with this they can experiment without the fear of the kitchen getting trashed. Their imaginations will run wild with all the fancy cakes they can create.
It contains a two piece cake extruder, a tray, cake stand, display dome, turntable, four cake cutters, tips for the decorating gun, server, plate, a plastic knife, cupcake liner, fork and four pot of Play-Doh (two tubs are the smoother Play-Doh Plus). It's safe to say you get plenty for £9.50.
Sets like this always provide hours of entertainment for the kids. Play-Doh is non toxic but they recommend that it's not given to under threes and I think you know why. They try to eat everything that comes into contact with them.
You can collect the Play-Doh Frosting Fun Bakery for £1.95 from your local Boots store (free when you spend over £20), or have it delivered for £2.95.