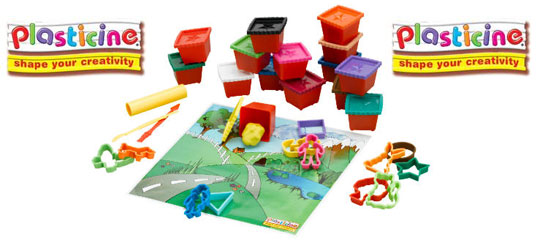 Tesco are selling this Plasticine Master Crafter set, which includes 15 (yes, 15!) tubs of plasticine, for half-price - £5 instead of £10.
Plasticine fills me with less horror than PlayDoh; it's not so easily trodden into your best Axminster and it reminds me of carefree days spent making models with it at infant school.
I like the fact that it doesn't involve anything with a computer chip, require a TV, has no flashing lights, annoying noises and just needs your imagination and creative flair.  For those who might need a bit of inspiration, the Plasticine Master Crafter set comes with an ideas booklet along with, as previously mentioned, 15 tubs of plasticine, 12 cutters, two modelling tools, a roller and a play mat to work on.
If you bought the Trap Door DVD then you could have a bash at modelling your own Berk whilst your child works on their own plasticine creations; when the teenagers were little, I found this sort of thing great for spending time together on rainy afternoons, doing things that weren't going to cause fights between them and which we all got utterly engrossed in.
Thanks to lucerysmum at HUKD