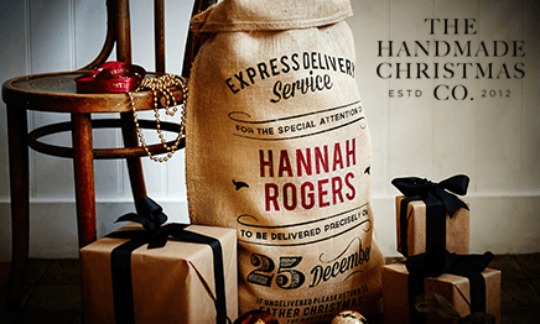 Christmas is a time for tradition, and some of you may have stockings that you pull out, year after year. If yours are needing replaced or you are get some, then Little Bird is the place to check out. They have a great offer with The Handmade Christmas Company on Personalised Hessian Sacks. Instead of them costing £22 each they are now only £7.99. You have to pay £1.99 postage and packaging but at just £9.99 delivered altogether, we would happily pay that.
You don't have to have these Hessian Santa Sacks personalised, you can keep them nameless, but they will still cost you £9.99 delivered.
Little Bird is a site similar to the likes of Groupon, so you buy the deal, in this case the Santa Sacks, then you redeem your unique code at Handmadeforchristmasco.com.
There are eight different designs to choose from and any personalisation will be done when you are redeeming your code at the Handmade Christmas Company.
You can get these lovely Hessian Santa Sacks at this amazing price for the next five days on Little Bird and after that this deal will expire. Once you have purchased the deal, your code will be emailed to you the following day and must be redeemed by the 15th December 2015.