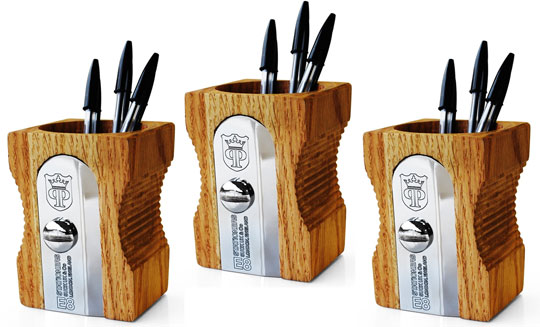 Amazon are selling this rather cool pencil sharpener desk tidy for £11, rather than its usual full price of £15.
There are few things I love more than a tidy desk; having your pens, pencils and rulers all in one place is just so satisfying.
When I think of 'desk tidies' I automatically picture those hideously, boring, plastic tube ones; you know, the one where the plastic tubes are different lengths and are moulded together.  The most shallow one was for paperclips and pencil sharpeners, the tallest for rulers, and the ones in between for pens and pencils.
Of course, if you love those moulded plastic tubes then you go right ahead and keep using them; if you hate them, however, and want something a little more 'funky' then grab one of these pencil sharpener desk tidies to put your pencils in.
It measures 85 x 120 x 85 mm is made from stainless steel and rubber wood from the Para rubber tree - that's where latex comes from too.  Rather than trees being burned down when they've come to the end of their latex usefulness, some of them are made into giant pencil sharpener pen pots instead!
Happy keeping your pens and pencils tidy!