Paint Your Own Animal Money Box £1.50 @ Hobbycraft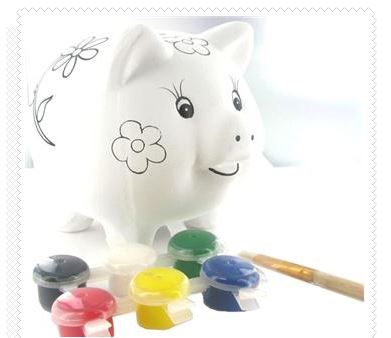 Hobbycraft have a range of Paint Your Own... animals on sale for half price. They are normally £3 but are now £1.50. Delivery is free on orders over £30, so that's probably no help here, but on over £10 there's free delivery to store, or  you can fork out the £3.50 for delivery - worth it if you're buying more than one.
I've been working with my oldest daughter on money management recently, because she's of the opinion that we can 'just buy a new one' of whatever, whenever. I've spent hours on Pinterest looking at how people teach their children about saving, spending and giving, and one thing that a lot of people use is a jar for each of those. I like the idea of three of these money boxes, painted and decorated, and then used for teaching the three way split in income. And at £4.50 for all of them (plus that pesky delivery) it's not a bad shout.
Alternatively, these would make nice little gifts for the never ending stream of kids birthday parties without breaking the bank. At the moment the 'paint your owns' available are a dog, pig, cow, lion, dinosaur, duck and teddy and there are also non-animals, a bag, a train, and a car. 
Thanks to tigersam at HUKD