No.7 Gift Set £32 @ Boots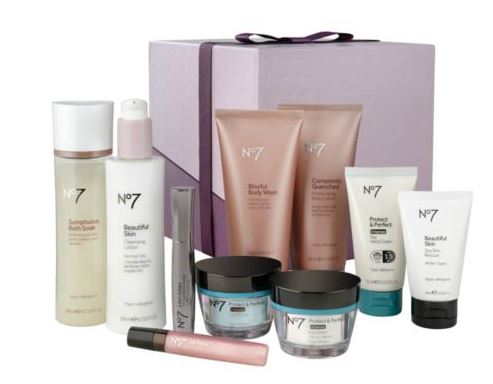 Gosh. Christmas will be in full swing this time next week. How are those presents coming along? All my good intentions are out the window! But at least most of the home made gifts are done! Boots have the No7 gift set up this week, for £32, reduced from £65.
The No7 Ultimate Collection is an exclusive set of the best No7 beauty must-haves, with a fantastic range of ten products from Protect & Perfect Intense Day Cream to Lash Adapt Mascara, the set contains everything you could need to feel truly pampered.
This beautifully boxed gift set includes:
No7 Protect & Perfect Intense Day Cream (50ml)
No7 Protect & Perfect Intense Night Cream (50ml)
No7 Blissful Body Wash (200ml)
No7 Completely Quenched Moisture Lotion (200ml)
No7 Beautiful Skin Cleansing Lotion Normal/Dry (200ml)
No7 Beautiful Skin Dry Skin Rescue (50ml)
No7 Sumptuous Bath Soak (200ml)
No7 Protect & Perfect Intense Hand Cream Day (75ml)
No7 Lash Adapt Mascara Black (7ml)
No 7 Limited Edition Lip Gloss Marshmallow (8ml)