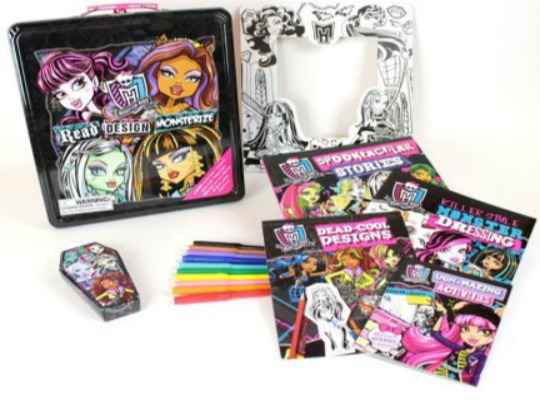 Right, picture this... your child reminds you at 12.30 that it's Lottie's party today, oh poop, you have forgotten and have to get a present and your child to the party in half an hour. Here's the solution start popping a few presents by when you see them cheap. It is the best way. I know my head is like a sieve but this is the only way to solve that problem. This Monster High Activity Tin from Argos is ideal and is only £3.99, reduced from £19.99.
What is in the Monster High Activity Tin? We are hoping a lot considering it had been £19.99! So, you get the cool reusable Carry Tin, a Storybook, a Sticker Book, a Colouring In Book, an Activity Book, Die Cut Press Out Cards, a Card Photo Frame and ten Felt Tip Pens.
Was it worth £19.99...never! However, I think it's a bit of a bargain for just £3.99 and certainly a decent enough present. If you have a Monster High fan of your very own then perhaps grab one of these for Easter?
You can reserve and collect your order for FREE from your local Argos or pay £3.95 for home delivery.