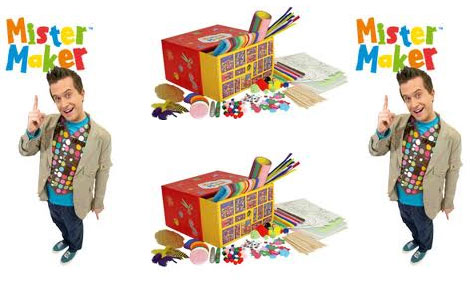 Amazon are selling these fabulous Mister Maker Doodle Drawers for £9.99 instead of their original £14.99 price.
I've been watching these for a while now and Amazon have been messing around putting the price UP then down, then UP again and down, it's  been pretty stable at £9.99 for a little and NOW it's a Deal of the Week, so this price is guaranteed until 11.59pm this coming Sunday.
I haven't watched Mister Maker for a good couple of years, at least! I don't get to see many kiddie programmes now that my youngest is at school every day; Mister Maker was one of my favourites though - completely bonkers, lots of fun and we've made lots of the things featured on the show.
My favourite was probably the grass hair guy - you just need an an old pair of tights, some cotton wool and grass seed and, of course some Mister Maker obligatory googly eyes!  You put some grass seed in the toe of the tights, pack it with cotton wool, stick on the googly eyes and other facial features, then WATER his head.
Before long our little grass head guy had a mane of thick green, grassy hair that we could cut into various styles as it grew and grew; he was FAB!
These Mister Maker Doodle Drawers are fabulous for kids, and grown ups, who like to have lots of various arty farty things at their finger tips, so they can whip up a creative masterpiece whenever they feel like it.
The Mister Maker Doodle Drawers contain four different projects for you to complete, stickers to decorate your drawers with and over 1 500 bits and pieces - I think that should be enough to keep your Mister, or Miss, Maker occupied for a while don't you?!
*sings* La La LAAA Mister Maker!