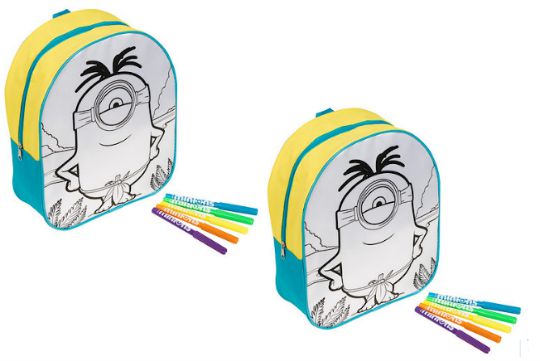 This is seriously awesome and something I am hoping is totally acceptable for a 31 year old woman to buy for herself. What am I talking about? The Minions Colour Your Own Backpack! Look at it! If you have a Minions daft child then you just have to buy them this. It's reduced from £10 to just £5 at The Entertainer and would make an awesome Stocking Filler, or an add on Birthday Gift.
The Minions Colour Your Own Backpack consists of a blue and yellow Backpack that is colourless on the front, so that your little one (or yourself) can colour it all in, just how they (or you) like. You get five colouring pens to help you along your way too.
Once it's all coloured in, your child can use it as a gym bag, going to the childminders, nursery or whatever else. It's a neat set for just £5 and I can see this selling very well, especially at this time of year.
You can Click and Collect the Minions Colour Your Own Backpack for FREE or pay £2.99 to have it delivered to your front door.