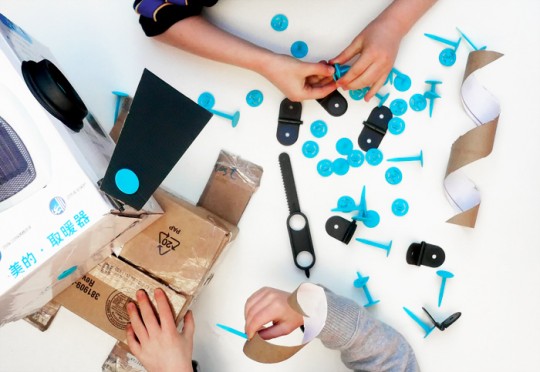 Makedo is a set of clips and hinges that make up a connector set that you can use to build and create toys and playthings out of all the random stuff that normally goes in the recycling.
Basically, what arrives is a box in which you find these clips, pins, hinges and stickers, as well as a safe-saw and instructions and inspirations for what to build. You can either buy 'guided sets' which give instructions or you can buy 'Make Anything' kits with come with a selection of parts and require your imagination.
It's hard to describe, or in fact decide, on these Makedo kits. They're either brilliant or spectacularly average. I think it depends on  your audience.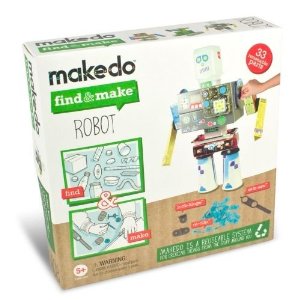 We received three guided sets, Find and Make Robot, Space Pod and London Tube* and spent a rainy afternoon having a go - actually we opened the Robot, and built it and decided to put both the Space Pod and the London Tube in the cupboard for next year, when our daughter is a little older and can be more involved in it.
Which is totally fair enough too, since the space pod has a 5+ on it and the London Tube says 6+.
We didn't have all the bits required for the robot either - the instructions say you need things like two disposable coffee cups, CD disks, three boxes, a large (very large) milk jug, some cereal boxes and perhaps a couple of Toblerone boxes - essentially, not things I happen to have in my recycling. None the less, we thought we'd give it a go with what we had.
I used two shoe boxes and the leaves from a third box, and made a robot - my daughter christened it Speedium. It's nothing fancy, but it it was actually fun to do. I used hinges on the 'legs' to attach it to the body and the clips and pins to attach the body to the head and the arms to the body. We decided not to use the stickers but to save them for another time when we could make a 'proper' robot with all the 'right' stuff.
My daughter stuck  around for about the first ten or so minutes then became distracted with other things while I carried on building. It took a couple of goes with the pins and clips, figuring out which way round was best and so on, but once I got it it was smooth sailing further.  As Speedium came near to completion, my daughter returned with a marker pen for a face and mouth, so we went with that.
Using the hinges on the legs was a great idea, because it meant Speedium could sit down and join in. Now, I must tell you, my little girl took to this shoebox robot like you won't believe. She was pulling it around the living room by its cardboard arm and talking to it like an old friend. I was rather taken aback. I really hadn't expected such engagement. She even said goodbye before going to bed.
If the weather had been better, I may well have taken it outside for some paint, but as it was raining, marker pens and crayons had to do.
The Space Pod and London Tube basically follow the same principles and I'm sure in time, we'll have plenty of fun with them. And since all the parts are reusable, you can really make anything with them as often as you want.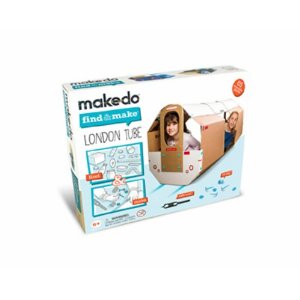 The Good
Makedo is such an innovative idea
It's a great way of making use of recycling items
Considering the options available and the limitless possibilities, they're really well priced and excellent value for money
The saw that comes with it is really good. If you're a box, it cuts really well, but if you're a toddler it's going to be really hard to hurt yourself with it
You can mix and match the pieces, the the 72 clips and pins from these three sets can be used in any combinations
It's a make-together project, ideal if you want something to do with your children
The Bad
It's a box of pins and clips. If that was your main gift it could be met with a bit of a disappointed face. As was the case of Speedium, after the first few minutes of building together, it became boring to a three year old and I was left building. Decorating was way more fun, but it really came into its own in the playing stages, which is where it counts, I guess.
For what it is it's quite expensive and lacks a bit of wow. It took us ages to be 'bothered' enough to actually make anything, but once we had it was great fun.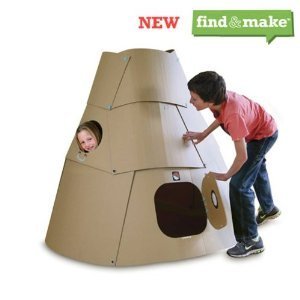 The Verdict
It's a great idea, fantastic fun for a rainy afternoon, and I'm putting it all in the cupboard and giving it a year or two, till we can really do it as a family activity and make ourselves a whole little play village or something. And there really is no shortage of what you can do - just check the website. And if you have children over 5 or so, this could be a perfect way to kill a number of hours between Christmas and going back to school.