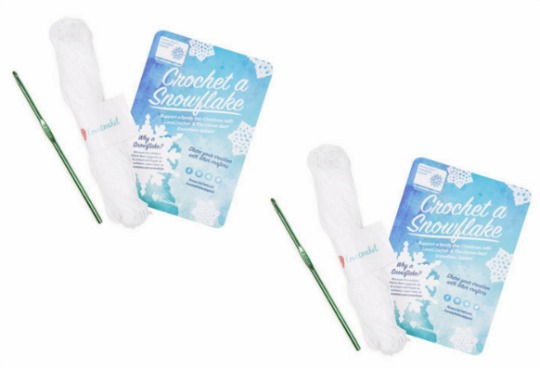 We all love a FREEBIE and you can get one from craft website Love Crochet. They are giving away LoveCrochet Snowflake Kits for FREE but you do have to pay £1 postage. This is great though for such a cool little kit. It would make a really nice activity for someone who is into Arts and Crafts or wants to do something nice at Christmas. Once made, your Snowflakes can be sent to families that Home-Start help, to hang on their trees. Home-Start helps people for lots of different reasons, one of which is social isolation, these Snowflakes are sent to remind them that they are not alone.
The LoveCrochet Snowflake Kit contains LoveCrochet Home-start Snowflake in Three Bears Yarn Affection, LoveCrochet-Three Bears Yarn Affection 10g - Pure White (001) and a LoveCrochet Coloured Aluminium Crochet Hook.
Here's what Love Crochet say:
This free kit has been created to support the Home-Start Snowflake Appeal. All items in the kit have been donated by LoveCrochet and Three Bears Yarn, we just ask for a £1 contribution towards postage
As it is a charitable item, you can choose to donate £2 or more if you can afford it, to Home-start.
Once made you can send your Snowflakes to:
Snowflake Appeal, 8 - 10 West Walk, Leicester, LE1 7NA
Thanks to jgolding82 @ HUKD