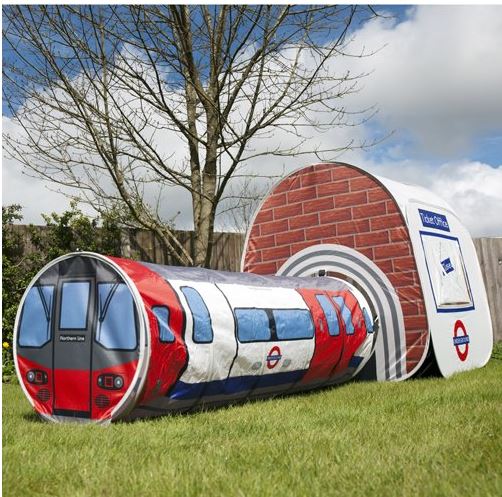 For the next five days, or while stocks last, Little Bird are selling a really cool looking London Underground Tube Station pop up tent and tunnel train for £25.50. Add £5 for shipping and it comes to £30.50. Amazon have the same thing on offer at the moment, reduced from an apparent RRP £63.99 - selling at £49.99 - to £39.99.
One of the Monster Factory tent range, this London Underground play tent would be awesome for lover of trains, tents and pop up houses. It is made from a waterproof and UV protected material, making it suitable for outdoor play as well as indoor. Its quick to assemble, since it just pops up in seconds.
Each 'ticket office' has open and close 'windows' and in and out doors.
This set is suitable for children aged 3 and up - but try keep smaller ones out of it, and good luck with that! - and is suggested up to 10 year of age.
There's no wait on this product either, so as soon as you've purchased, it should be with you within three days, leaving more than enough summer play time!