The Land of Me Game Review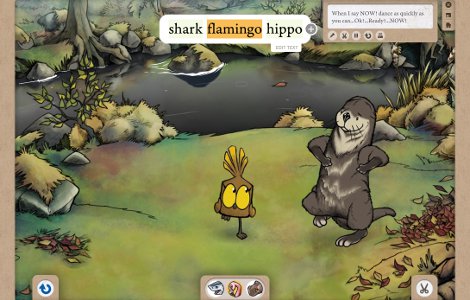 I discovered The Land of Me recently, and I have to say – I love it. I find it hypnotic and mesmerising, and even my 19 month old – which is a little younger than the target market of 2 – 6 years – can watch the characters Eric, Buddy Boo or Willow for a good 20 minutes.
So what is The Land of Me? Well, have you ever read those 'make up the story as you go' books? You know – 'if you think this happens next, go to page x, if you think that happens next, go to page y'? Well, this is like that, but in bite-sized chunks, and you can change the story as you go along by changing the weather, where it happens, (a lake, the desert or the arctic, for example) and so on.
There are six chapters, which are designed by child development experts to help children learn in a fun environment and  without even being aware of it, things like shape, colour and size, rhythm and dance and so on.
What makes this software fantastic in my view – apart from the brilliant graphics and soothing music – is that each 'chapter' has printable projects or 'things to do' from masks to finger puppets to lyrics for the songs to colouring in sheets. There's such a range of activities that it can really keep the little ones entertained for absolutely ages.  There are also short video clips of real animals out in nature and while you're choosing the elements of the story, there are questions you can ask your child to encourage thinking and discussion.
I also really like the attitude of the company behind The Land of Me. On their website they offer you the first chapter completely free, and if you invite three friends – invite three friends, they don't even have to accept – you are given a code to 'purchase' the second chapter for free too (Although I had to go through the payment process for a £0.00 amount, but their technical people are looking into that). The website has a blog too, where there are regular updates of craft, food and fun ideas.
Which leaves four chapters for purchase at £6.95 each and chances are, by the time you've been through the second chapter you'll be hooked. I know I was.