KTWO Stationery: 20% Discount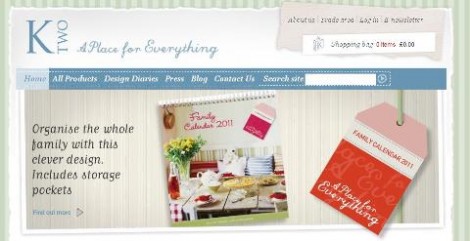 KTWO Products is an online retailer that specialises in organisers. They've given PlayPennies an exclusive code to use, which will give you a 20% discount.
Click here to get your Back to School organiser from KTWO
Discount: 20%
Promotional Code: PP20
Minimum Spend: £0.00
If you're looking for a new calendar or organiser, then I would hope you'll be checking in here first. That way you'll be able to benefit from any discounts, sales or voucher codes that might be available. That is, after all, what our canny PlayPennies parents are about - making sure every penny counts.
The Family calenders and organisers, and the School books, are specially designed to meet the need of, well, families and those with kid in the education system. These are definitely beautifully designed products, and highly desirable. An organiser or calender is something you are likely to be using everyday so it helps, I think, to have something that is beautiful to look at as well as functional to use.
That said, the prices on this site aren't that cheap. However, I would imagine the quality would justify the price tag - you can find out if you tune in on Wednesday as we'll be reviewing the Family Calendar and the School Calendar. Plus, with a 20% discount on the price, they could make nice little presents.