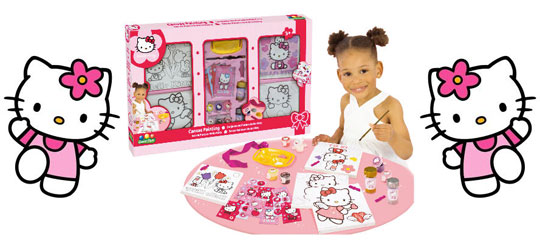 Tesco have cut the price of this Hello Kitty Craft Set in half, reducing it from £20 down to £10.
Hello Kitty is insanely popular and things like this craft set tend to sell out quickly, especially when the price has been halved.
Aimed at young girlies aged between three and four years, it comes with a variety of different Hello Kitty canvases, 12 colour pots, stickers and glitter.
I used to love being given things like this when I was little.
Christmas day would invariably bring music to listen to, books to read and games to play with but the thing I looked forward to, and enjoyed, the most were the creative 'toys' (would you call this Hello Kitty Craft Set a toy...?  I'm not sure what the proper term is, but you know what I'm getting at).
There's something fabulous about being able to put your own stamp on something; adding your own flair to items and making them your own.
If you have a Hello Kitty fan in your family, I think they'll be thrilled to open this Hello Kitty Craft Set on Christmas Day.
In-store collection is free; home delivery is £5.
Thanks to lucerysmum at HUKD