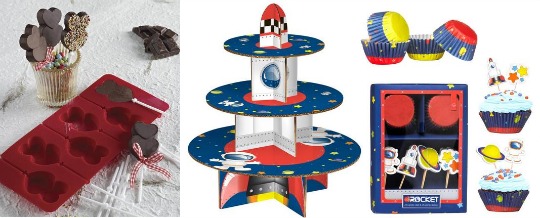 Dunelm Mill have a pretty massive sale on right now, and we have already featured some mega bargain £3.99 duvet cover sets. Looking to see what else is on offer I spotted some really cheap things in the Kids Bakeware section, with prices starting from an amazing 17p! All the items in the picture above are under £1 each!
Most of the really cheap items are things that kids will use all the time in the kitchen if you like to whip up a quick batch of fairy cakes with them (even if you occasionally cheat and use a packet mix like me). There are cupcake cases from 17p, cookie cutters from 49p, and whole themed sets of cake cases and toppers for just 74p!
I really like the stars and hearts reusable lollipop moulds, as I can just imagine what the kids would be like decorating their own chocolate lollies! There are lots more silicone moulds, cake stands and baking accessories, and some of them have really big reductions.
As these are final clearance lines availability can be a bit hit and miss, but you can use the free reserve and collect service if they have stock at your local store, or home delivery costs £3.99, but you don't want to pay that if you're grabbing 17p cupcake cases!
A cheap packet of cake mix, a bar of melted chocolate, and some sugar sprinkles and the kids will be kept very happy for a rainy half term morning. Oh! I've just remembered my Ikea chocolate moulds in the cupboard! That's tomorrow's activity taken care of. :)