Heroes Of The City Games, Books, Apps And DVD Review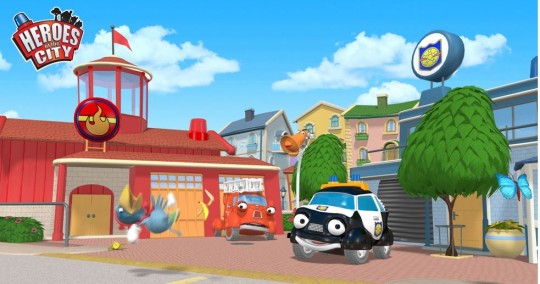 Like most preschoolers, my daughter goes crazy for fire engines and ambulances, but for reasons beyond me, is really afraid of policemen. Somewhere down the line, someone has told her that they're going to take her away and that's stuck with her. I decided it was time to introduce emergency services to her as a helpful, required service. I rung up our local fire station and arranged a visit with some friends, and they were awesome with the kids. The police weren't that interested, but we'll work something out. In the meantime, however, I discovered Heroes of the City and introduced my children to them.
Heroes of the City is an animated DVD, with books based on the same stories, little characters - we have the police car and the fire engine - and the apps for the books and the movies.
Heroes of the City follows Fiona Firetruck and Pauli Police Car and Calamity Crow as they go about life in their small town. There's always someone needing emergency services - often thanks to Calamity - and Fiona and Pauli are on the job.
There are 'real life' scenarios, like always keeping fires attended - and if you don't, the mouse family could lose their house - and never making prank calls - that's from the same story. The barn burned down because Fiona and Pauli were out on prank calls. There's one for camping, and one about a car race and a few others.
Like many children's stories these days, the movies have been turned into books too, which are equally nicely illustrated and great quality. My girls love them, and the books can withstand my girls! Yay.
For on the go entertainment, these are also available as apps through Google Play and the App Store.
Oh, and if you're interested, there are four free downloadable, printable activity books too.
I got these for my 4 year old, who loves them, but my 2 year old adores them too, and will often ask for Heroes! Heroes! so it definitely has wide appeal, and our little boy friends like it as much as the girls and their little girl friends do too.
It's not the same as anything I've seen on BBC or Disney or anything else, but is quite unique and even the theme tune isn't annoying. An all round win, we love Heroes of the City, and the lessons learned from it.