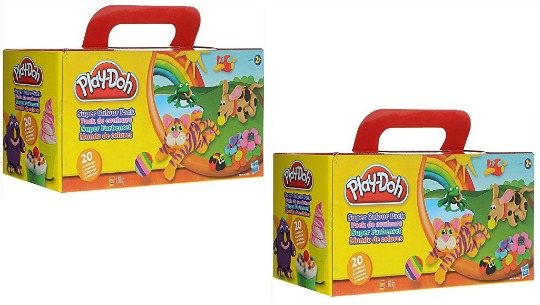 Play-Doh kids love it, we parents hate but let's face it, it's not in the same league as Moon Sand. It's actually quite therapeutic (Play-Doh) if you sit down with your child. Squidging it and digging your nails in it can be quite a stress reliever, the mess on the carpet left behind not so much. If you use it at the kitchen table then Play-Doh isn't a problem at all. Grab this Play-Doh Super Colour Pack for just £9.88 from Amazon. That's the cheapest I have ever seen this for as it usually sells for around the £19 mark.
The Hasbro Play-Doh Super Colour Pack contains twenty tubs of Play-Doh. That means you will have ever colour/shade under the sun to make great models with.
It's not suitable for children under age three years old, although I am willing to bet a three year old will have a wee taste out of curiosity.
With this much Play-Doh you can make anything....think Wallace and Gromit.
To get FREE Super Saver delivery from Amazon you must spend at least £10, so just top up your Play-Doh order with something costing 12p or more. Like this Ruler*.