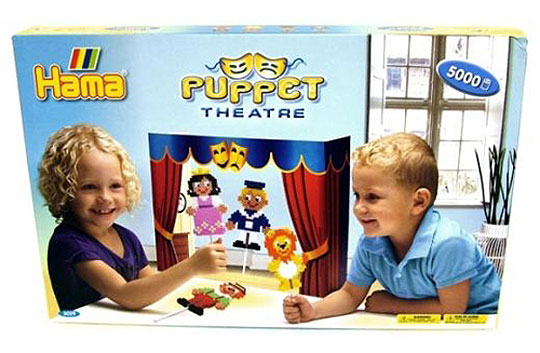 Play are selling this rather fun looking Hama Beads Puppet Theatre for £9.99, rather than its full price of £15.99.
If I was of a certain younger age then Hama Beads would be just my cup of tea - I love messing around with things like that and making little keepsakes to give to people.
But there are only so many coasters and other Hama Bead items you can make before it gets a bit tedious, so something like this Hama Beads Puppet Theater will make a nice change.
It features a pop-up cardboard theatre, one large peg board, four puppet sticks and 5000 Hama beads of various colours; your child, and you if you want to join in, can make some puppet characters and then stage their very own dramatic productions afterwards; fabulous DAHLING!
If you've never ordered from Play before then I'm pleased to be able to inform you there's no delivery to pay if you live within the UK; even more fabulous.
Thanks to wishihadadonkey at HUKD