 We know how hard it can be to keep the family entertained on a budget, so we thought you might like to plan ahead and book one of these family days out for this half term. Remember that on a lot of these sites the offers change every few days, so if you see something you like, grab it while it's available. Always double check the availability to make sure it's valid on the day you have in mind too.
These amazing packages give a family of four one night's accommodation in a hotel, and FIVE activity days out to choose THREE from. That means you can spend a day out, have a night in a hotel, and spend another day out for £129. You can extend your stay for another night, or find a budget hotel elsewhere and enjoy your third day out, included in the package price or come back another time before the end of the year to enjoy your third day out.
Families can enjoy 20% off tickets to Groombridge Place - fly away with Peter Pan and enjoy this magical event with free activities and more during May Half Term.
Have a fantastic fun-packed day out for all the family and save 22%. Over 400 animals including; tigers, lions, monkeys, zebras, meerkats and lemurs plus rides and slides, woodland railway, Paradise Lagoon, On Safari Adventure Golf, Tiger Treetops, tropical rainforest, farmyard encounter, Tumble Jungle soft play and more.
Enjoy up to 35% off this exhilarating spectacle for all the family at Hedingham Castle on Bank Holiday Sunday, 24th May! The ultimate test - The Knights of Royal England are mounted on feisty warhorses at closing speeds of up to 40mph! A thrilling bank holiday day out.
This offer ends today! Fun and adventure, den build and get lost in the maze with the family in Riverhill Himalayan Gardens this May Half Term and save 30%. 
Save 33% on tickets to The Big Outdoor Show. Climbing walls, archery, animal encounters, BMX shows and displays and stalls await. A Great day out for the whole family.
Dress up as your favourite Superhero or Princess and join the costumed entertainers in sing-a-longs or training schools, as they fight evil villains to maintain peace on the Farm. With fancy dress competitions and themed events all day long, whizz the energy out of your little one in a day to remember at Marsh Farm! Also all the usual fun on the farm; meet the animals, pet handling, tractor and trailer rides, pet shows and more.
Stir up a unique treat for kids and big kids alike. At Chocolate Island, you will discover and enjoy the old-fashioned process of hand-making chocolate. These fun 90-minute workshops will take place during May Half Term on Monday 25th, Wednesday 27th & Friday 29th.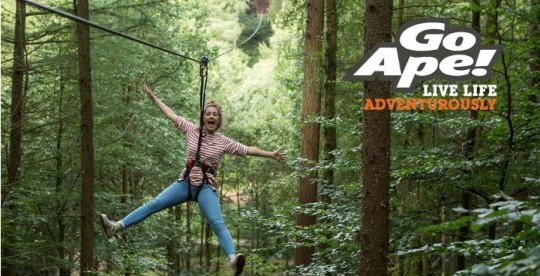 Go Ape lets guests explore the lush greenery from the tree tops, with zip wires, forest swings and hairy crossings made of wood, rope and wire. There are 28 Go Ape courses around the UK, all set in picturesque forests, and guests can enjoy the views whilst satisfying their adventurous side.
Kids can run wild at the play centre, with accompanying adults looking on. The inflatable equipment is suitable for children aged from 18 months to 12 years, with bouncy castles and fun houses awaiting discovery. Each child also gets a drink to enjoy while they play, and up to two adults can accompany their children, free of charge.
Located at Fife Leisure Park, Adventure Golf Island's 40,000 sq ft complex is brimming with seafaring spirit. Both 18-hole courses feature plenty of hazardous obstacles, such as Captain Sparrow's jail, and a castle with a fort and wooden bridge. Each floodlit course ends with an 18th-hole challenge, which entitles players to a free round if completed.
Adventurers can get stuck in to a full-day course which includes rock climbing, abseiling, aerial adventure and a giant bungee swing. Climbing into action, guests will learn belaying, knots and movement with an introduction to rock climbing (usually £30). The aerial adventure (£15) course will have them navigating vertigo-inducing obstacles before a 15-metre abseil and giant bungee swing. After a break for lunch, guests can apply their newly-acquired rock climbing skills and learn how to climb the ice wall (£30), before they relax in the sauna and steam room.
LONDON DAYS OUT: There's a new landmark days out activity coming to London this month, opening next week. It's called KIDZANIA, a 76,000 sqft child-sized city (size of Leicester Square) where on entrance children aged 4-14 receive 50 KidZos to bank, from then on what they do is up to them. The city streets house a number of establishments which children can either use their KidZos to enjoy or role-play jobs for which they are paid.  The jobs on offer range from Airline Pilot, Dr, Fireman, Factory Foreman, Pitlane Engineer to Nurse, Baker and Air Conditioning Engineer.
 Combine history and theatre this half term and take the family to see this critically acclaimed Henry the Fifth production and save 50%. Watch history come life in a modern, fun and inventive take on Shakespeare's play.
The perfect way to see London's iconic riverside landscape including HMS Belfast, the Tate Modern, Houses of Parliament, London Eye and more and save 50%.