Grafix Make Your Own Piggy Bank Review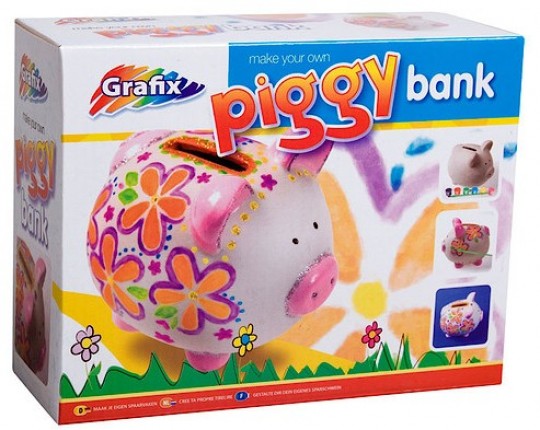 I found a huge sale at a local 'little bit of everything' kind of shop and bought up a whole range of craft boxes and projects, mainly for gifts. The weather has been so grim, however, that we've started delving into them for our own entertainment.  Having recently broken my daughter's ceramic piggy bank - is it my fault it was teetering on the edge at the top of a stack of books in her play area? - I decided that would be a good project to kill a few minutes one afternoon.
Having read a few reviews on the Grafix Make Your Own Piggy Bank, I wasn't really expecting very much for it, and at about £3, I didn't anticipate it being much of anything, really, but I was very pleasantly surprised.
In the box we found a very well packaged little ceramic pig, a paint palette with six little pots of paint and a paintbrush, and silver and gold glitter glue.
The first thing I noticed was that the images on the box have a glazed, shiny pig, but there's nothing available to glaze the piggy with. That's not the end of the world though and my daughter didn't notice at all.
The paints were better than I imagined. They spread nicely, and mixed as nicely. They were quite thick too, perfect for not causing a huge mess. The paintbrush was a little rubbish, quite thin and hard, but again, my daughter didn't seem to notice or mind.
She painted her piggy, and then the baby got into the paint and was covered with it. I popped them both into the bath and it all came off really easily. I also got some on my new white blouse, and it took a little effort, but it washed out too. I think if I'd left it it may have been a problem though.
The paint on the table wiped off without too much hardship too.
While the girls were in the bath, the paint on 'el porky dried, and we set about glittering her - Stephany, apparently - up. We left the glitter to dry over night, and first thing in the morning, popped a few coins in.
All in all it took up about half an hour, plus another half an hour for the bath and all that, so it was a perfect activity for late afternoon and for the price, it was fantastic.