Grafix Paint Your Own Piggy Bank £3 @ Tesco/The Toyshop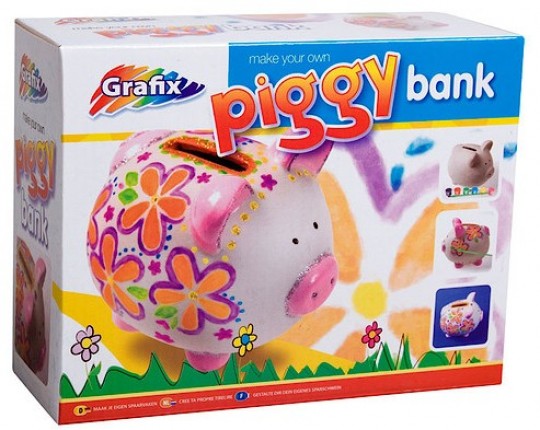 The Grafix brand Paint Your Own Piggy Bank craft set is reduced at both Tesco and The Entertainer/The Toyshop, with the price halved from £6 to £3. I'm telling you about both places, so if you have one or the other near you you have options rather than paying for postage.
I bought my daughter one of these a few weeks ago. She really enjoyed the decorating process, on the one hand, and it has definitely inspired an interest in saving too, because she pops any stray pennies into her piggybank whenever she finds any, so that's a good thing.
The Paint Your Own Piggy Bank comes in a box with a six pots of paint, a paintbrush and silver and gold glitter pens.
From experience I can say the paints are pretty good, but the paint brush isn't the best. If you want to do actual fine art with your pig,  you may want to have extra paintbrushes on hand.
The paints clean up and wash off really easily and its a good half hour's entertainment for not a lot of money.