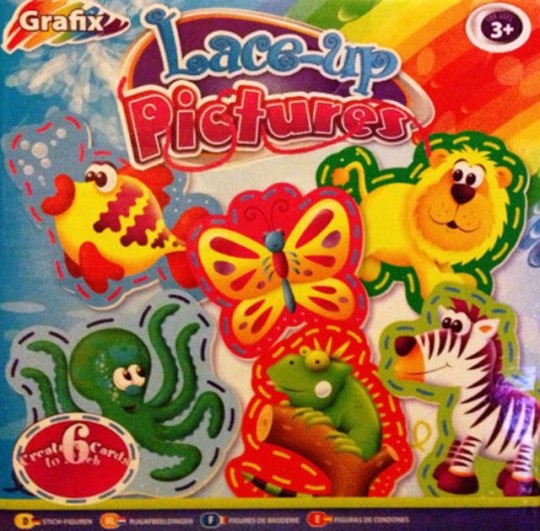 I both love and don't love the Grafix series of arts, crafts and toys. I love them because they're really cheap, and pretty good quality, in general. I don't love them because they're really cheap and convenient, meaning I'm buying things I can probably make, but don't because buying the parts would cost more than buying the whole.
A great example are the Grafix Lace Up Pictures. I made lace up cards from pictures, laminated and hole-punched for my oldest daughter, back when I only had one child, was a stay at home mum and had lots of time on my hands. Now I don't have either luxury and while I'd love to make some lace up cards, my youngest will have outgrown them by the time I dig the laminator out again one day.
And then, you're casually walking through your favourite shop, when you see the Grafix Lace Up Pictures for £1.49 for six, and there's almost no argument.
So, I bought them, dubious about the quality at that price, but they are lovely!
The pictures are a random mix with a butterfly, octopus, fish, frog, lion, and zebra and they are all bright, bold, pretty, and sturdy.
My eldest really took a fancy to them (she's three) and strung them all up as decoration inside her play tent. My youngest - she's only 17 months - chewed at them a little, but she's clearly not ready for them. Even so, they withstood her assault and are still really nice looking. They still look brand new.
Each card comes with it's own string, so you can thread, unravel and re-thread as many times as you like.
I'm quite surprised at how nice they are for the cost, especially considering what I've seen similar ones go for in other brands.  I highly recommend the Grafix Lace Up Pictures. I cannot fault them for anything.