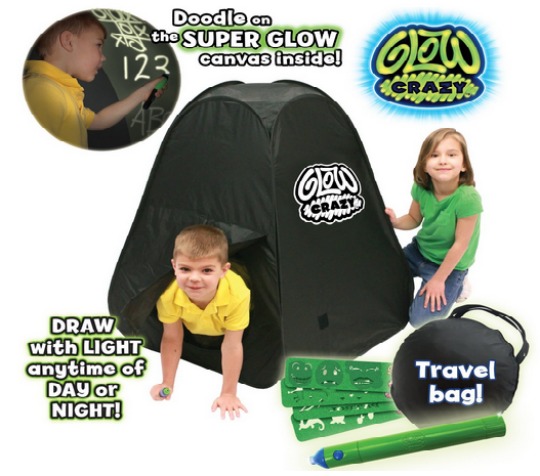 "I WANT ONE, I WANT ONE, I WANT ONE!" Annoying isn't it? This is the sound of my children every day from October through to Christmas Eve. This is yet another toy they just MUST have. Thank goodness Argos have halved the price of it from £22.99 to £11.49. Amazon have price matched them, plus FREE Super Saver delivery. This sells for £22 at Asda Direct, £22.99 from Smyths and £23 from Tesco Direct (Entertainer).
The Glow Crazy Tent comes with everything you need apart from two AAA batteries for the LED Lightwand. You get the LED Lightwand, the tent, stencils and a carry case. There's a booklet with it too for drawing tips.
This is suitable for children aged three years and above. It's a essentially a play tent with the ability to draw and imagine it to be what ever you like, for example a submarine. Images fade after a wee while and this can be used at night or through the day.
You can collect the Glow Crazy tent from your local Argos for FREE or get it from Amazon and have it delivered for FREE. I know which one I'm choosing but it might be easier for some to collect it in their own time.